A Clean Home is a Happy Home: 3 Mental Benefits of Having a Clean Home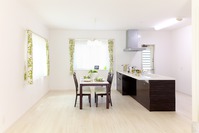 A clean home is a happy home. Having a dirty home could make you feel anxious and unmotivated since keeping a clean house means less friction all around. Below are three mental benefits of having a clean and happy home:
1. Less Stress

When your home is a mess, you're more likely to feel chaotic and out of sorts. Having a reoccurring cleaning service can lower your stress levels. You won't always have the daunting task of cleaning hanging over your head every weekend. Instead, you can spend more time decompressing and with your family.
2. Increase in Productivity
According to a study conducted by Princeton, having a cleaner home can actually make you feel more productive. If you work at home it can be hard to stay motivated. You may put off work or weekend tasks to avoid the cleaning you need to do beforehand.

3. Boosts Creativity
Having a clean and organized environment can make your mind clear to focus on other things. Get those creative ideas flowing with an organized workspace. No matter what project you're working on, having a clean home will boost your inspiration. If you read this article and know decided that you are in need a dependable and thorough cleaning service or whether you are looking for that responsible company which offers competitive prices; we are perfect for you!!!
❇️ Book your appointment today!! ❇️
Follow and like us across all of our social media platforms: Facebook, Twitter, Instagram and Pinterest to keep up to date with #villecleanservices 😉